In this section...
All about week 1 (23-4-19)
Welcome back after the Easter holidays! We hope that you have all had lots of fun and rested too! We got to hear all about your holidays after we all completed a written recount about what we did. Lots of us took great enjoyment in telling our friends and grown ups about what we did and we were impressed with the children's writing skills! Well done guys!
Monday was a bank holiday and Tuesday saw us return to school wearing red and white. At first any of us thought it was just a red and white dress up day, but as Tuesday went on, we learnt about the knight George, who slayed a dragon to save a princess and protect the villagers.
Here is a link to a child-friendly version of the story, but you can also watch CBeebies Lets Celebrate and watch how the twins prepare and celebrate St George's Day! https://www.youtube.com/watch?v=OFTgSaTST_E
We have also launched our Down on the Farm topic, with many children surprising Mrs Jones by announcing the new topic! ;) Well done for reading the blog!
We have completed some superb paintings of animals which you would find on a farm and thought about why farmers keep animals and what uses they have.
In Maths, we have looked at the "Part-Whole Model". Any grownups with older Homefield children may know what this is, but in case you have not heard of it before, here is a little introduction.
The Part-Whole Model is a method of learning mathematical facts and solving mathematical problems. It is a visual way to learn and solve problems and will be used a lot as your child learns the mastery approach to maths.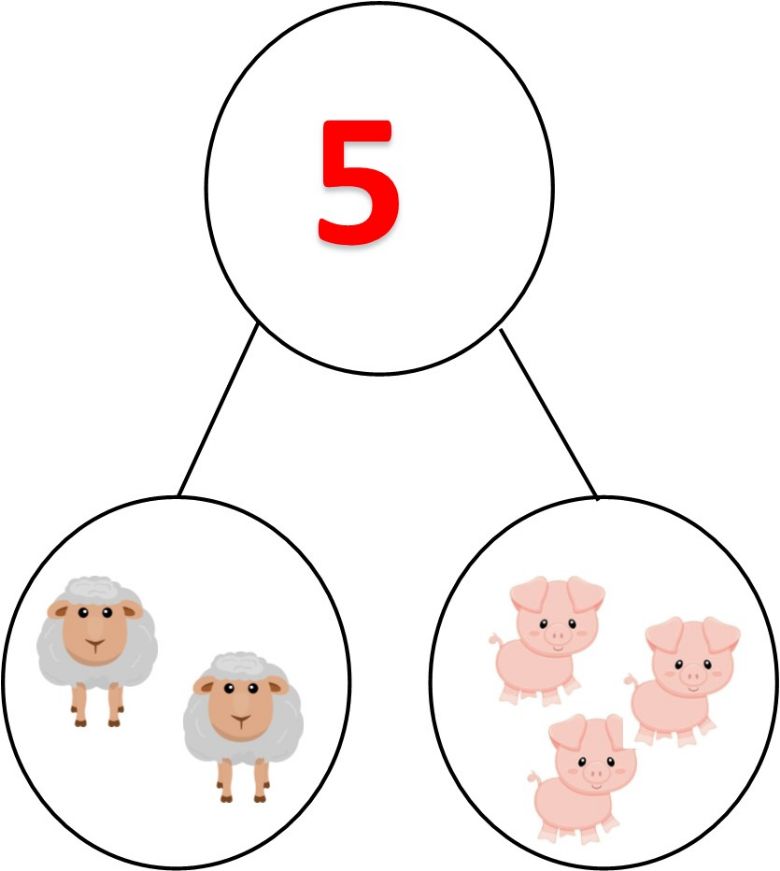 So, the two circles at the bottom of the model are connected to the top circle (in this example! The Part-Whole Model can also be displayed in different orientations!). So "The Parts" are at the bottom and they are "connected" to the top, which is "The Whole". The parts make up the whole; so in this example, two sheep and three pigs equals five.
When introducing this to the children, we worked solely with pictures, adding the numbers as we talked about each section;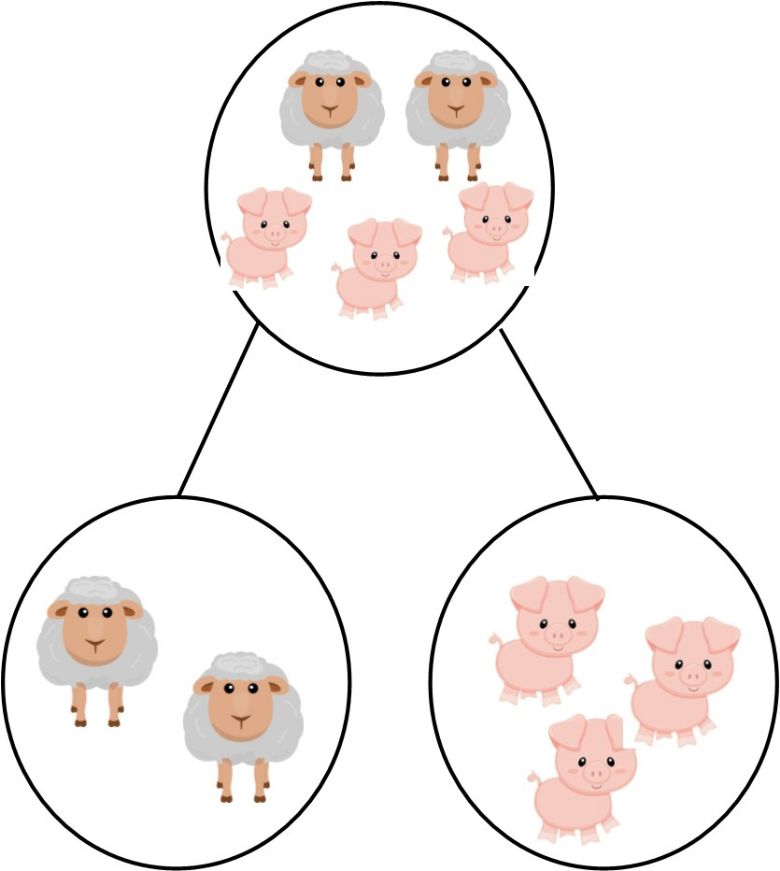 Eg: How many sheep are there? - 2
How many pigs are there? - 3
So how many animals altogether? How many animals are in "the whole"? - 5
Using this model will help the children to learn strategies to visually (and practically if using counters) to add and take away. Later in school, the children will use this for all manner of problem solving and calculations.
As the children became confident in looking at the model and using it to find the total of the parts, we then added problems to see how they coped...and believe me, they did!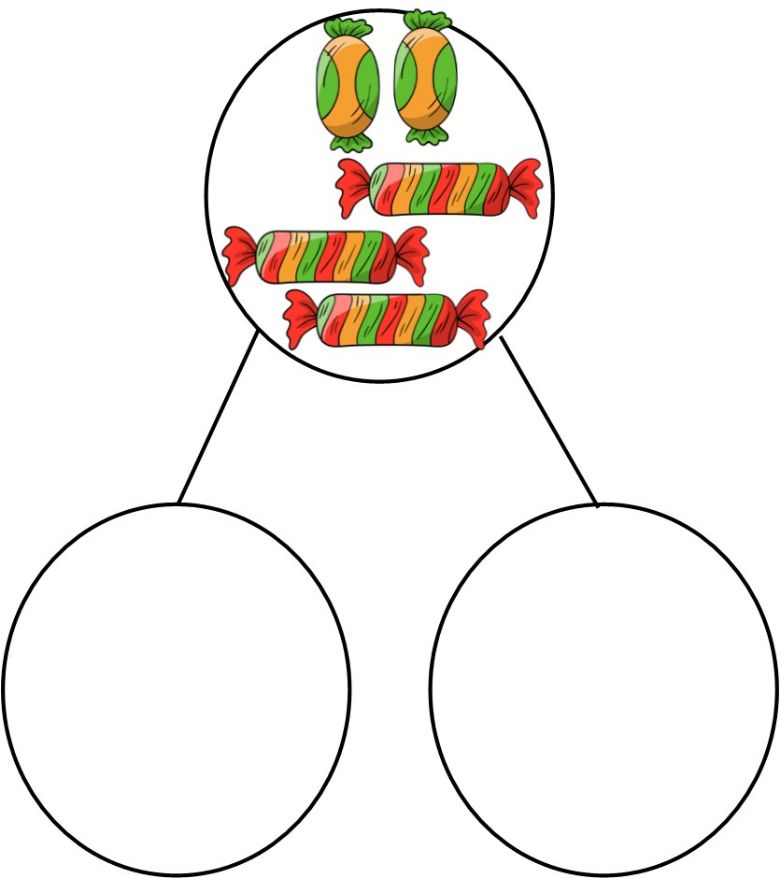 So, the missing numbers (or pictures) would be 2 (green/yellow sweeties) and 3 (stripey sweeties). This enables children to learn about addition and subtraction, inverse operations (2+3=5, 3+2=5, 5-2=3, 5-3=2), answer missing number questions (5-2 =).
I hope this makes sense, is not patronising and is useful. We are just becoming familiar with the model as one of many ways to help us in the future, and to solve/construct simple calculations.
Rainbow Words:
Some children are finding their words tricky! Sadly, the free games we used to play have all disappeared online or require a payment fee! Here is one free example I have just found, but you would need to become a member to access other levels... I will keep searching! It's not the best, but it is an online game that may give some "WOW" appeal...
https://epicphonics.com/games/play/free-tricky-word-balloons
Hoorah- Here is dinosaur eggs, which may be more inspiring!
http://www.ictgames.com/dinosaursEggs/
Also, use Google/ Pinterest if you are stuck for ideas ( OR ASK US!!!) :D
Seeing another coloured word may be driving you both to despair, and as you progress through the colours, the words are becoming harder. Try this Lego (or other building block) idea, use songs and chants, playdough sausages to form the letters etc. These words are mean, so lets jazz up how we learn them. And remember, it is better to learn them slowly and remember and USE them, then to whizz through and be unable to use and read them months later.
Dates:
Tues 30th - class photos
Mon 6th May - Bank Holiday!
Wed 8th- Our class assembly (9:20 prompt start)- it is not a production, but a normal assembly which you can attend and watch the children share their learning.
Wed 8th pm visit to Peterhouse School Farm
And this week's password is Escape Rooms!