In this section...
7 School days to go and then we move on ☹
This week was again a hot and busy week. Wednesday saw a fabulous Sports Day, well done to Miss Studley, as always, for her fabulous organisation skills! Well done to all the children who took part, some less confident in some activities but who nonetheless gave it their all! And on such a hot day too! A huge well done to Oliver Hands who may have set a Homefield record for his 12.7 metre throw with the beanbag! WOW! Miss Studley is looking at keeping records for Sports Day achievements to highlight achievements that might otherwise be forgotten as the year(s) pass.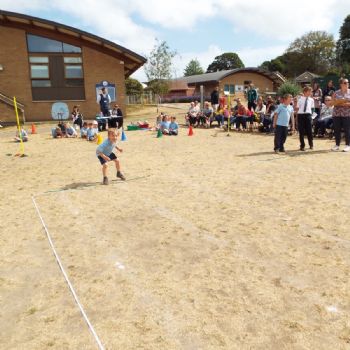 This week in Literacy we have looked at the legend of St George and the dragon. The children have thought about describing the dragon and then produced some awe inspiring Wanted posters! On Friday we began writing the story though our tiredness is becoming more and more evident. Well done guys. Whilst looking at different versions of St George's legend we found this one and it quickly became the class favourite!
https://www.youtube.com/watch?v=8QgA51HyW4Q
We talked about how legends were told and passed on by word of mouth and so elements can change like in a game of Chinese Whispers, until it has been written down.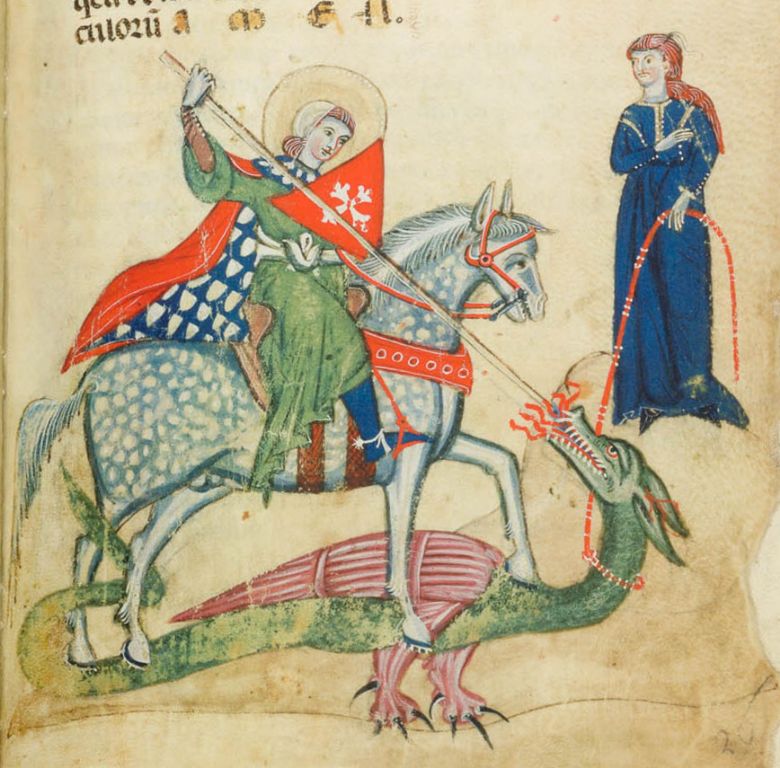 In Maths we have finally begun looking at money. However, this has proved tricky when counting coins that are not all the same denomination. Money is a really tricky concept for children so exposure to coins is essential. We have looked at all British coins, talking about the heads and tails sides, the colours and shapes. We have focussed on how they have numbers and number words (And also national symbols of the UK). We first began trying to make amount using coins and finding alternative ways with small amounts such as 1p, 2p, 3p, 4p, 5p, demonstrating that some amounts have more than one way to be made.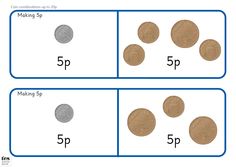 So 5p could be: 5p, 2p+2p+1p, 2p+1p+1p+1p, or 1p+1p+1p+1p+1p.
We then began counting amounts using 1p, 2p and 5p coins only. We are becoming more confident with counting and recognising money, but we still have the remaining coins and notes to go! Some children are still not 100% confident in knowing that each coin denotes a specific amount e.g. counting each coin as 1p, or muddling pounds and pennies, or 'inventing' their own coins such as a 3p coin! This is something that comes with experience, so next week we will continue with money instead of moving onto the next topic. We shall play shops, play money games and sing some songs too!
https://www.youtube.com/watch?v=dFzAU3u06Ps money song (1p, 2p, 5p)
https://www.topmarks.co.uk/money/toy-shop-money (using one coin or mixed coin denominations. Also offers opportunity to give change which we may not be quite ready for…yet)
https://www.topmarks.co.uk/money/coins-game (offers counting, sorting and ordering coins to develop children's money skills).
On Wednesday we had a more 'chilled' afternoon after a hot and busy Sports Day and with teaching assistants supporting Key Stage 2's Sports Day, the children and I had an arty afternoon after a much-needed ice-pop break. We looked at the Calla Lily plant that we have growing in the Hope Highway walk through. We made a large table, so most of the children could sit around it and sketch a Calla Lily, with a smaller table for those who could not squeeze round. We used pencil to sketch our outlines and then chalks to shade. The children loved the art afternoon and produced some magnificent work! Everyone who has visited our room has been very impressed!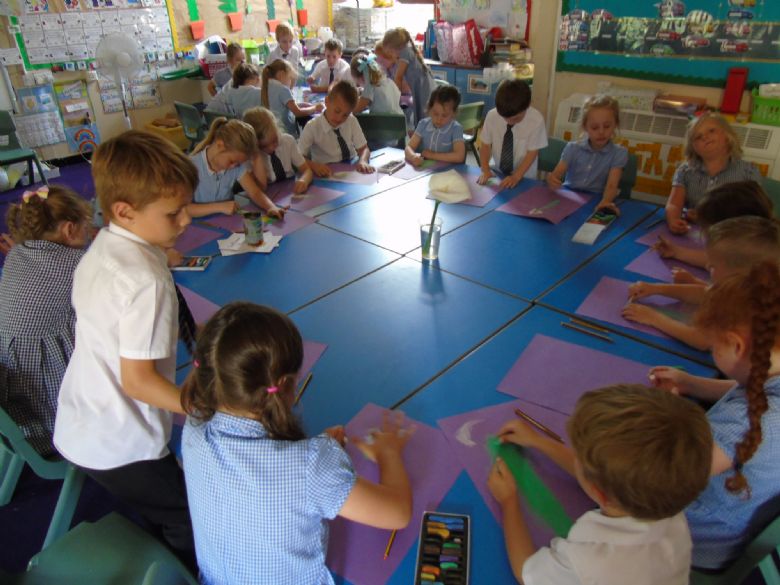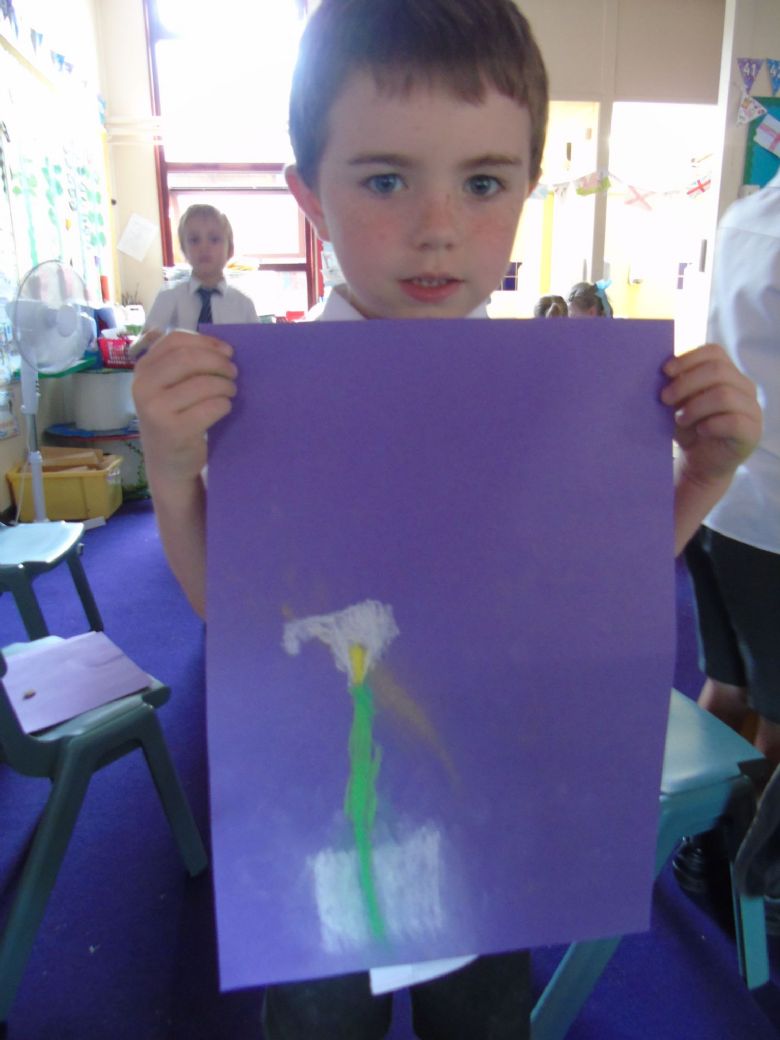 Our little Year 1 garden is doing well...especially given the heat. We have been trying to measure our sunflowers however some have 'snapped' but we remembered the story by Eric Carle called The Tiny Seed and remembered that nothing everything planted will always grow. Lets hope the extra and extra extra sunflower seeds will grow, as well as our beans!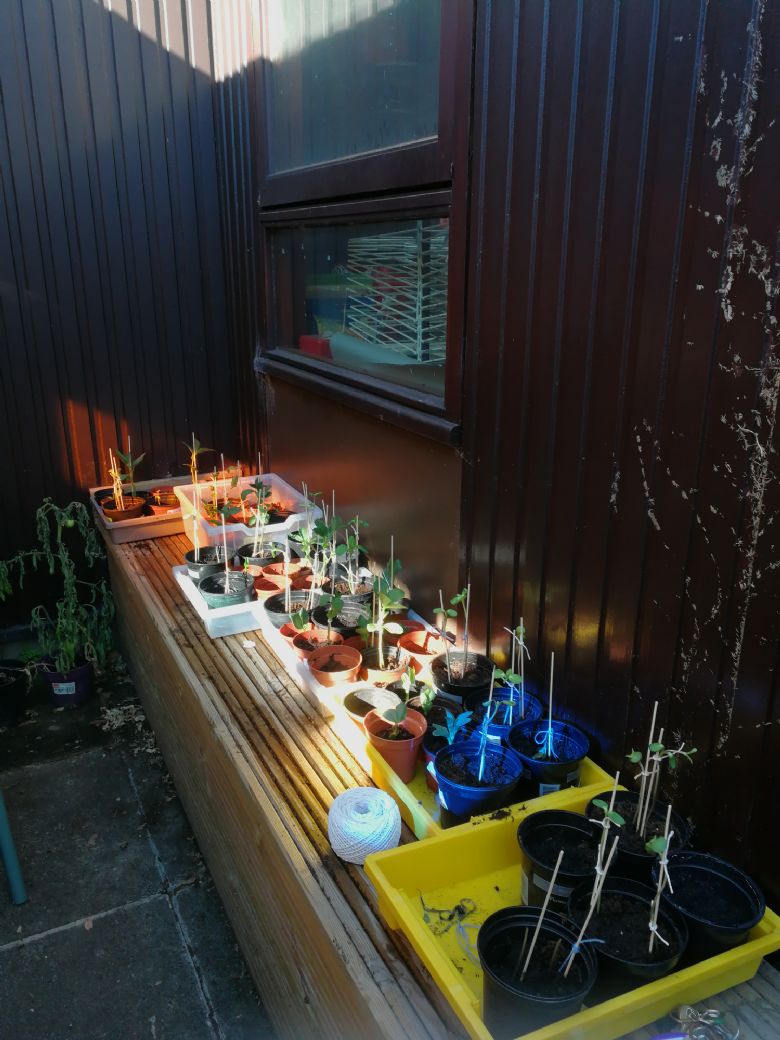 We have also been looking at Design Technology. We have explored making moving pictures using 'sliders' and 'pivots' so far. The children were so enthused that many recreated their own designs at home and brought them in. So far, we have made an England footballer scoring a goal using the slider mechanism, and St George's dragon 'eating' a beautiful maiden using a pivot mechanism. The children will be designing their own ideas and choosing a mechanism next week… I wonder what they might think of?!
We have also looked at aerial views and looked at aerial photographs to pick out key features and landmarks. We shall continue with these and compare different places...
What a busy week…
With only 7 school days left, we will be winding down and collecting things in. If you have a library book, please can they be returned for Monday 16th July. PE kits will be sent home on Tuesday 17th July following our PE session with Mr Carr.
The password for this week is 'dragons!'
.