In this section...
The countdown to Christmas has started in Year 3 at Homefield!
The children were very excited when they came in on Monday to discover the elves had been in over the weekend and decorated the school for Christmas. Christmas decorations and lights are in every classroom and even the corridors have brightly coloured baubles and streamers. Christa loves the tree in the hall which is decorated with lots of pretty lights with a bright shining star on top!
On Tuesday we enjoyed eating our lunch with the Senior Citizens of Bradwell. We made some table decorations and some of us had a yummy Christmas dinner. If we didn't want a dinner we ate our packed lunch so we didn't miss out. We sat with the Senior Citizens and enjoyed talking to them and answering their questions. We pulled crackers and listened to Christmas music.
Wednesday was St Andrews Day. St Andrew is the Patron Saint of Scotland and we watched a PowerPoint teaching us about who St Andrew was. We learnt that he was one of the twelve disciples of Jesus and he gave Jesus five loaves of bread and two fishes and Jesus was able to feed 5000 people. We also found out that the thistle is the national flower of Scotland. Christa remembered that the reason the thistle was chosen was because when Scotland were at war some of the people they were at war with were walking through a field in bare feet and one of them stood on a thistle which caused him to scream. This alerted the Scottish people that they were there and helped them to win the war.
On Thursday we had our Decoration Day. Lots of our Mums and Dads came in and helped us complete lots of Christmas crafts. We made some wonderful Christmas cards, mobiles, calendars and Christmas trees. Lots of sparkles were used, Christmas music was listened to and we all went home covered in glitter and feeling very Christmassy. The mobiles we made will be for sale at the Christmas Fayre this Saturday.
These are some photos of the fun we had on Decoration Day.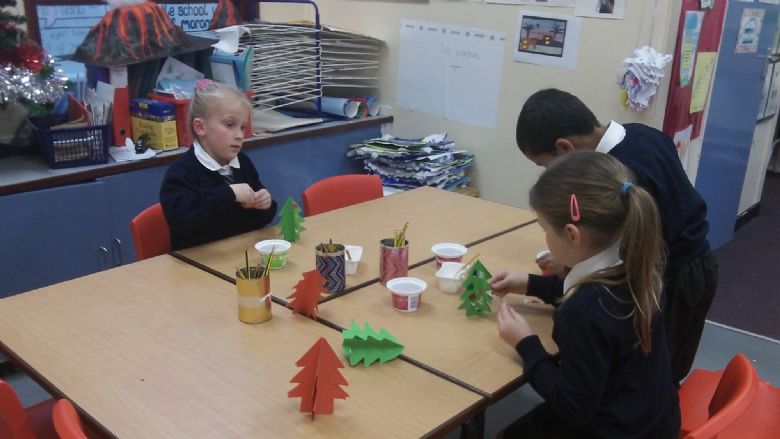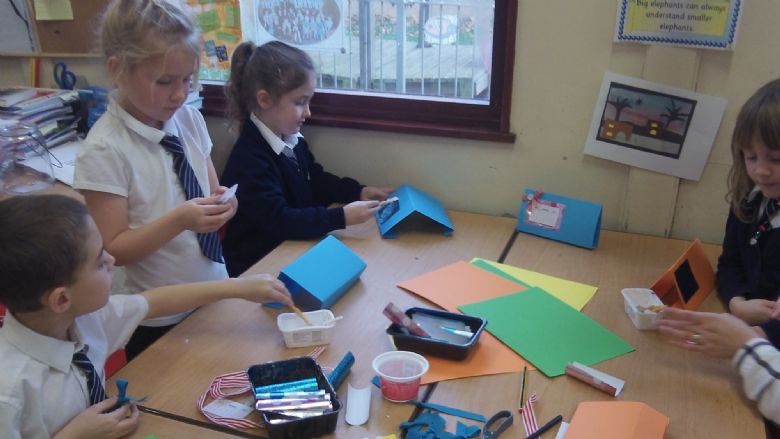 When we arrived at school on Friday there was a note attached to the whiteboard from the secret elves. They left us a clue to where they had hidden some treats and four children, chosen from the Christmas stocking, had to try and use the clue to find the treats. The four children today found their treats, funsize Milkyways, with the help of the class. We are wondering (and hoping) if the elves will be back again next week with some more treats for some of us.
Next week we will be practicing for our carol service. We have lots of Christmas carols to learn. Remember that tickets are now available at the school office. This link is one of the songs we will be singing!
https://www.youtube.com/watch?v=cpHY3jU27dc&safe=true
To encourage parents and children to read our class blog each week we will be putting in a secret word for the readers to find, write on a post it note and bring in Monday morning. The children who read and bring in the word will receive a team point! So get reading children!
This secret word this week is Thistle