In this section...
Many thanks this week to Olivia and Emma who helped with the blog this week. :)
This week we went to the memorial outside the church, where we were outside for 40 minutes. Gracie and George placed our giant poppy, made of 30 little poppies, by the cenotaph. Year 6s from other local schools attended as well as the other classes from Homefield. (The children's behaviour was exemplary).
There were 10 people who attended cross-country from Year 5 (5 boys and 5 girls), and they all represented the school really well.
Today, we all wore sports clothes and odd socks to raise awareness for Anti-Bulling Week and to raise money for Children in Need. We had an active start to the day when we joined other schools across the country for an online 'mid-morning move' with Joe Wicks. The hall was full to bursting with lots of colour and energy.
In English this half term, we have been looking at descriptive writing. This week we have refreshed our memories about similes, metaphors and personification and used them to describe animals (without saying what the animals are). Can you guess what these class pieces are describing?
Group 1
The speckled form perched on the gnarled, ancient tree stump. Its beady eyes were a pair of golden suns around which the whole forest orbited. Like a knife through the night, it waits. And watches. Its treasured weapons gripping fiercely, ready to attack.
Group 2
The ferocious form waited on the damp, splintered tree stump ready to pounce. Two honey-yellow plates stare through the darkness like lasers. Its knife-like talons hook the wood beneath.
Scroll down to see the inspiration….
Keep scrolling
Keep scrolling
Were you correct?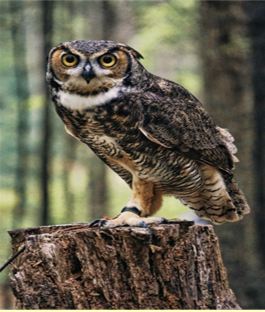 Secret blog word this week is personification.