Attendance
Research commissioned by the Department for Education shows missing school for even a day can mean a child is less likely to achieve good grades, which can have a damaging effect on their life chances. At Homefield Church of England Primary School, our aim is to work with parents to ensure that all our pupils receive the most from their education and reach their full potential.
This page is to remind all parents/carers that the law requires them to ensure that their child attends school regularly. The Government remains very clear that no child should miss school apart from in exceptional circumstances and schools must continue to take steps to reduce absence to support children's attainment.
If you wish to take your child out of school on holiday, please ensure you obtain a Leave of Absence Request Form from our School Office or download the attachment below.
Our team reviews attendance each half-term and looks at patterns of broken weeks, lateness and persistent absenteeism (Below 90%). If there is an issue regarding a child's attendance, parents are notified by letter. Failure to improve attendance, could result in the school requesting medical evidence for the absence or legal intervention from the Local Authority.
We are positive you will work with us to ensure your child is at school regularly, learning and thriving.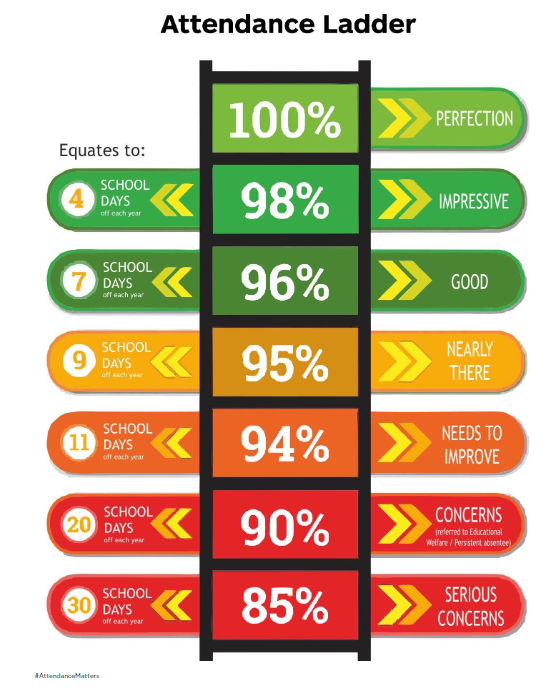 Attendanceopoly
Every week, every class from Year 1-6 with attendance over 95% gets to roll the dice and move around our 'Attendanceopoly' board. Certain spaces have whole class rewards which can be won when landed on.
Last week's class attendance figures (27.11.2023 - 01.12.2023):
Year 1 - 99.0
Year 2 - 88.0
Year 3 - 94.5
Year 4 - 95.9
Year 5 - 95.7
Year 6 - 87.7